Digital Work Packs
Revolutionize workflows, eliminating wasteful paper and laborious data entry. Our cloud-based digital work pack solution streamlines upgrades and maintenance of your industrial assets with real-time document sharing on mobile devices between site and office.
The ultimate source of information, a digital work pack travels from office to field and back instantaneously. A handheld device interface enables mobility and flexibility, enhancing safety and quality so that you can keep projects on time and under budget.

MODS Connect Work Pack software solution links all the essential details pertaining to engineering, manning, materials, inventory, fabrication, installation, industrial health and safety, scheduling, and estimated time. Designed for engineers by engineers, MODS Work Pack software delivers an accountable and visible real-time view of the task from planning to sign-off.
Historically, work packs have been enormous physical documents that can be hundreds of pages long contained in large files or folders. Digital solutions render these paper-based systems of the past obsolete. MODS Connect digital Work Pack module alleviates the physical problems associated with paper work packs through a cloud-based, fit-for-purpose solution where signoffs, permissions, copies and departmental access can all be achieved instantly.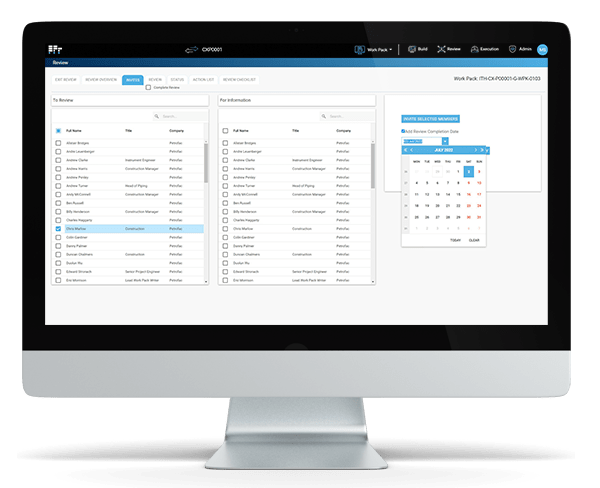 Work Pack Challenges
Current work pack systems that rely on paper-based printouts, spreadsheets and physical signatures involve high levels of manual intervention and suffer from a lack of accountability, transparency and traceability. This inevitably leads to errors causing safety issues, losses and delays.
Common work pack-related challenges include:
Incorrect and inaccurate population of forms

Lost paperwork and data

Unclear knowledge of real-time project/asset status

Physicality of sharing information and communication causing unnecessary delays

Large workforce requirements resulting in additional budget requirements

Paper-based work packs result in storage space and cost issues

No primary database with all information easily accessible

Delays in data synchronization resulting in inaccurate status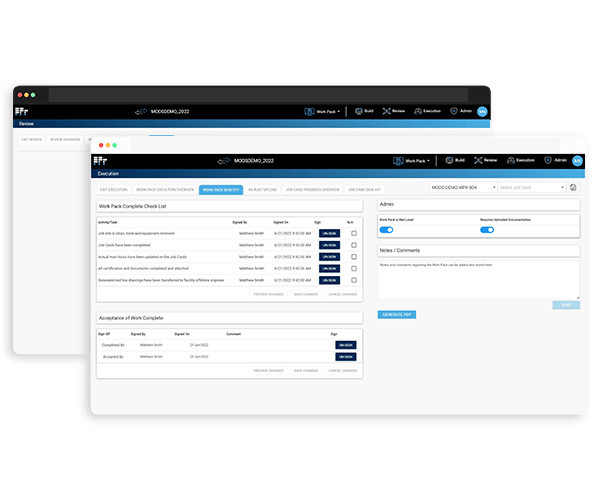 INEFFICIENT WORK PACK SYSTEMS IMPACT:

Project completion dates & scheduled work timeframes

Costs, budgets & additional funding requests

Communication & connectivity across the organization

Safe execution of work
Digitalize your Work Packs
Converting your current work pack paperwork and processes to a digital system will revolutionize the way you manage construction, upgrades and maintenance of industrial assets. The preparation and scheduling of work packs rely on accurate form filling, comprehensive information sharing between departments and speedy signoffs.
Manual systems are cumbersome and time consuming in comparison to our digital alternative. This is especially the case when administration and permission signatures are in different physical locations that involve return journeys onshore and offshore. A comprehensive digital system such as MODS Connect Work Pack software automatically negates transportation issues and offers editing access and signature signoff in an instantaneous cloud-based environment.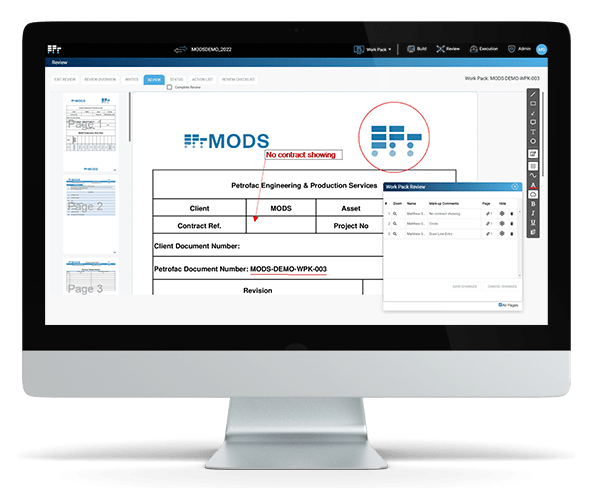 Work Pack Contents
Our digital Work Pack solution integrates Job Cards complete with defined milestones, detailed steps and activities with the necessary trade mix, worker hours and Bills of Materials, as well as key technical data for construction and operational requirements with the ability to show current status. Risk assessments and other documents can be reviewed and edited remotely. Vital components include joint lists, completion ITRs and the crucial signoffs.
All this information can be updated, shared, and accessed by permission, instantaneously, from anywhere in the world. Templates and structure can be modified to clients' design. Quality assured with automated cross-referencing and form population, MODS Work Pack software increases efficiency and reduces costs while providing accessibility and transparency.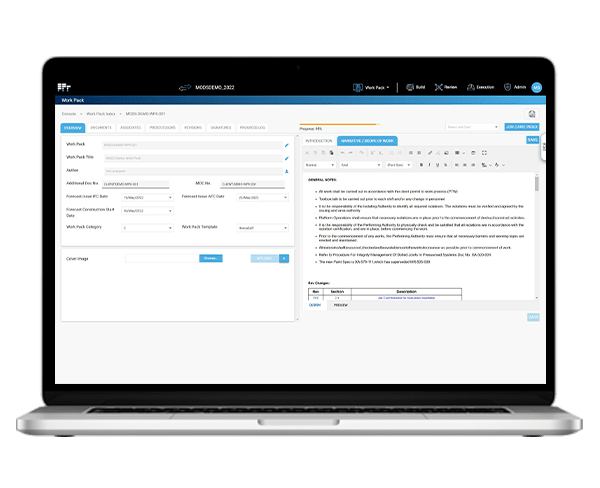 Speed saves time and money
When comparing the compilation and distribution of physical work packs to our digital software solution, it's a no brainer. If you calculate the amount of time, manpower and physical resources used to assemble, ship, and closeout a work pack, a traditional system would require 60-90 days.
Our digital Work Pack solution is instant. No extra time to wait. Adjustments, red-lines and signoffs are effective immediately in real-time. No photocopying, physical distribution or storage required. Over a 2-year project, tens of thousands of dollars would be saved by going paperless.
Real-time status updates regardless of project location
Our Work Pack software provides a seamless, collaborative, cloud-based solution that enables access to real-time project status anytime and from anywhere. This is especially useful for the remote management of offshore or other remote assets.
MODS Connect Work Pack software delivers an innovative and interactive environment, utilizing handheld devices in the field to ensure all work packs are updated, monitored and controlled safely, efficiently and on schedule.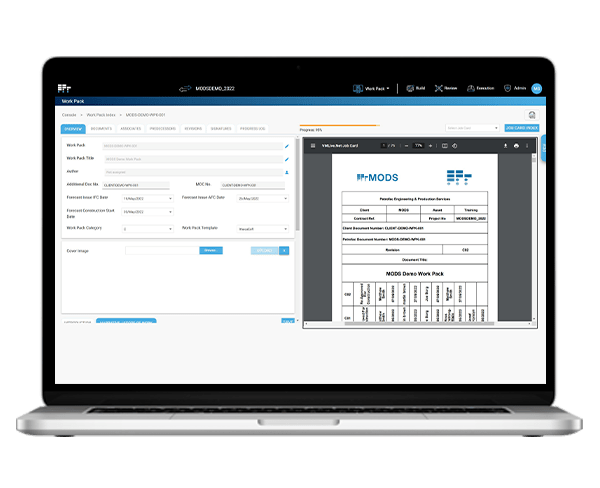 Easily create a fit-for-purpose Work Pack
Our proven digital Work Pack system easily produces work packages that are clear with step-by-step instructions on how to perform a given scope. A cloud-based solution, MODS Connect Work Pack software ensures that all project information is available globally and in real-time.
This enables management to make the right decisions with confidence. MODS Connect Work Pack solution retains the fundamentals of job-setting but delivers them in a highly structured and consistent manner. This solution creates a fit-for-purpose digital work pack for field execution that optimizes the construction, maintenance and upgrades of industrial assets.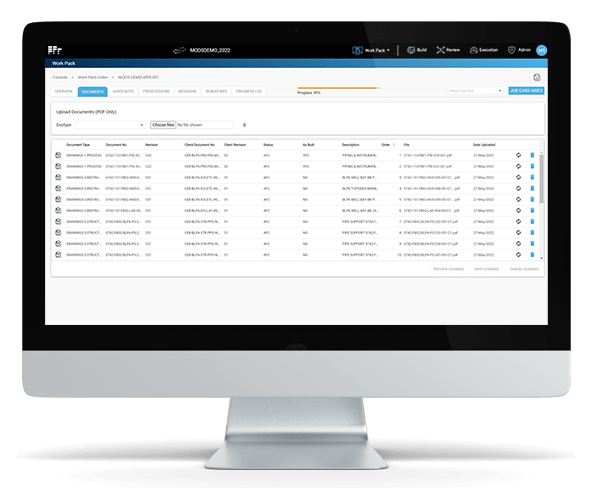 The

m

aterials-

work pack

i

nterlin

k
MODS Connect digital Work Pack solution integrates with your existing systems as well as with the complete MODS Connect software suite, designed to advance the digital transformation of industrial upgrades and maintenance projects.
A notable benefit of this compatibility is the digital Work Pack interlink with materials management solutions, such as MODS Connect Materials Manager to ensure that your materials are at the right place and at the right time. This avoids bottlenecks and delays and ensures that your sequential activities can carry out as planned.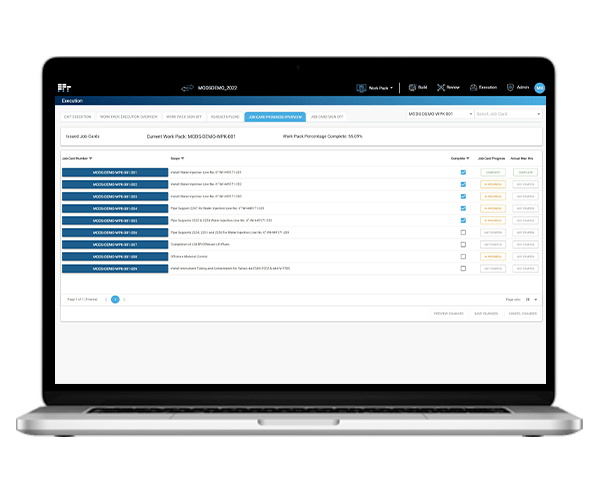 3D

v

isualization

wi

th

Reality
MODS Connect Reality module offers real-time 3D visualization and progress status of onsite construction execution, which gives EPC groups and contractors a comprehensive look at the project. On-the-ground status and demands are clear, enhancing management and oversight of your industrial asset.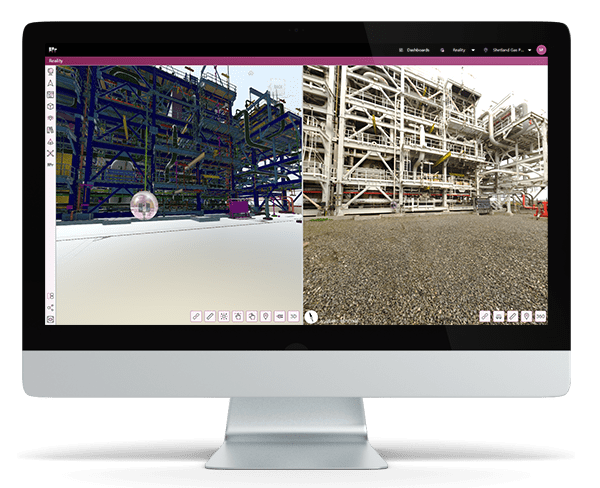 Benefits of using MODS
Work Pack

solution
Reduce administrative burden

Structure work on three levels: Work Pack, Job Cards and Activities

Interactive processes

Flexible system for allocation of work

Web-based review and revisions

Compatibility with all MODS Connect software

Automatic revision archive

Permit and work-pack readiness trackers

Paperless solution

Handheld technology for agile working

Positions your company for the digital age
We would love to talk to you about our digital Work Pack solution
MODS offers a Work Pack solution that is part of the MODS Connect suite. MODS Connect can deliver real value on your projects and help you realize cost-saving changes vital to remaining economically viable. The exponential costs of creating and using traditional, paper-based work packs is reflected in a labor-and time-intensive process. Time is money and digitalizing your work packages will reap rewards in all areas of production and use. MODS Connect digital Work Pack software seamlessly synchronizes and auto-populates all other modules within the MODS Connect suite.
Contact the MODS team to arrange a presentation on how MODS Connect can help your organization.

Digitalize your Work Pack processes for Operational Excellence
As a cloud-based Work Pack management system, MODS Connect provides an affordable and easily adaptable solution for managing stress-free tasks either in Construction or in Operations through handheld technology and automation.
The system is designed to enable users to interact directly with the online database to efficiently red-line and close-out tasks real-time, to track progress, reduce paperwork errors, and speed up processes with automated population. All of these features deliver accountability while institutionalizing Operational Excellence in organizations through the following.
Improved communication & connectivity
Reduction in total installed costs
Avoiding bottlenecks and downtime
Improved project, safety, and schedule performances
Increased productivity
Remote work enablement
Dependable progress & job cost tracking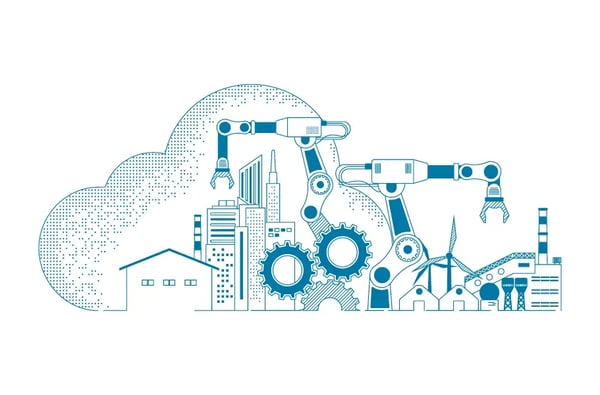 Comprehensive work-pack planning and execution

Cloud-based working ideal for offshore projects

Field or project development planning

Engineering activities coordination

Project management

Engineering value chain optimization
Automated work pack planning, creation, and compilation

Detailed work scopes and drawings

Job-card creation with: materials, equipment and personnel

Activity scheduling and planning for each discipline

Construction equipment and crew required

Easy review, control, and updates
Preparation of works schedule per discipline

Marine vessels & crew requirements, where necessary

Cost, Time, and Resources (CTR) estimating, both design and engineering

Covers all activity phases from fabrication through commissioning

Post-commissioning documentation activities and handover
USE THE FULL CONNECT SUITE FOR HIGHER ROI
MODS Connect Work Pack
MODS Connect is the overarching suite of software specifically designed for the challenges faced by EPCs and Operators on indistrial projects. Within this software group, our Work Pack module is a crucial, integrated component that eliminates any doubt of project data being lost or delayed. The Work Pack software can function as a stand-alone solution that, alternatively, can integrate with your existing systems. For a significant ROI, we recommend looking at the full MODS Connect offering for upgrades and maintenance of industrial assets as well as brownfield projects of any size. 
Poorly executed work pack management is often the reason for significant delays that obliterate project budgets. Harnessing the power of our digital Work Pack solution will revolutionize your work practices and processes, delivering efficient and effective project management. Through digitalizing your work packages, you align people, processes and technology.