Industrial Construction Management Software
for Asset Maintenance and Upgrades
Digitalize, simplify and automate essential tasks with MODS Connect. With our help, businesses can save millions of dollars on projects and maintenance. We transform how our customers plan, control and execute work - safely, on time and within budget.

MODS Connect furthers the digital evolution of your projects, making upgrades and maintenance of your industrial assets easier than ever. Compatible with your existing systems, MODS Connect is a ready-to-go solution for connected delivery throughout all project phases.
Maintenance and upgrades of industrial assets often overrun, suffering from disruptive schedule deviations and up to 80 percent uptick in costs. With MODS Connect, a plug-and-play, cloud-based solution that digitalizes project lifecycles, decreasing administrative burdens and costly errors.
Servicing a wide range of sectors such as upstream/downstream O&G, wind and other renewables, mining, civil infrastructure, utilities and more, MODS Connect digitalizes your fabrication, materials, work packs, joint integrity, activities (including SIMOPS), inspections and completions. Unifying people, processes, and technology regardless of location, MODS Connect integrates with your existing processes and systems to streamline workflows, saving time and money.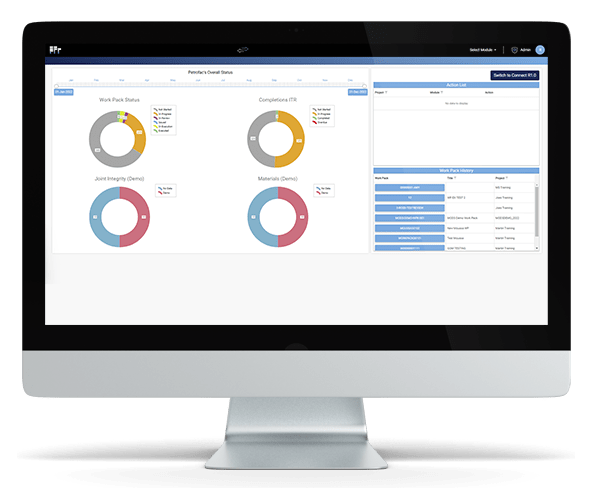 Common problems in upgrades, maintenance and brownfield projects
Lost paper-based information and other information gaps
Compatibility issues between systems
No comprehensive lifecycle database
Communications time-lag of project status from site to office
Lack of communication between different project phases
Falling behind schedule
Inaccurate forecasting
Running over budget
Difficult to control onsite person-hours
Out-of-sequence construction, when predecessor work is not properly prioritized, successor work cannot proceed smoothly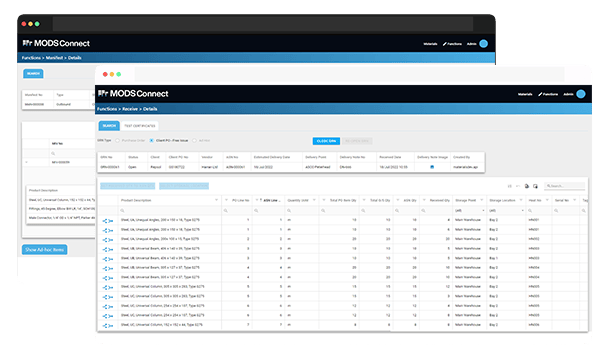 Digitalize and unify lifecycle management of your asset from fabrication through to completion with MODS Connect
Create a technology partnership with MODS to accelerate your digital transformation journey with software solutions designed by engineers for engineers. Projects that run behind schedule and over budget benefit from unified systems that coalesce all asset and project information into a single, cloud-based database. MODS Connect ensures your data is system ready to reduce human error, keep workers safe and ensure project transparency.Our software solutions for asset upgrades and maintenance avoid bottlenecks that interrupt sequential activities, streamlining your workflows, saving time and money. Provide reliable, quality assured, connected delivery to your clients with MODS Connect. Available individually or in any combination, all MODS Connect modules are compatible with your existing systems, making the complex simple.

The digital fabrication solution to ensure that fabricated components are ready when they need to be. Oversee the entire fabrication process with this digital solution that allows you to track component progress, ensuring transparency and traceability of all project components. Link to your materials management system for comprehensive oversight of your materials supply chain.
MODS Connect Fabrication offers the following benefits:
Real-time fabrication tracking via app technology
Dashboard and static reporting
Quick traceability
Digital fabrication dossiers
Improved transparency
Supply-chain visibility of materials
Reduced administration
Improved scheduling
Clearer, more accurate communication
Heightened quality assurance and accountability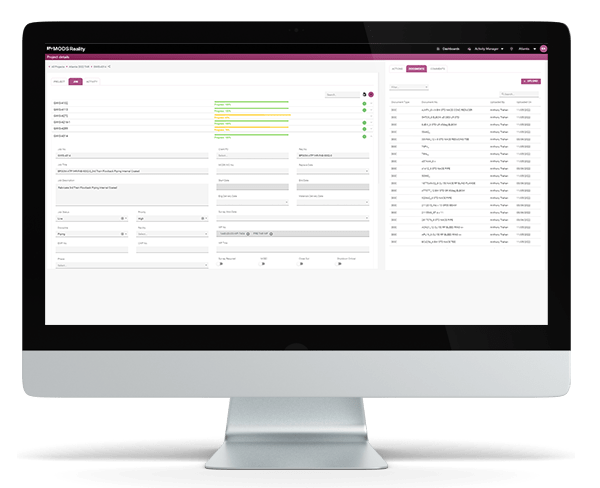 Avoid bottlenecks and interruptions of sequential activities by ensuring all materials are at the right place and at the right time. Our Materials Manager software ensures your materials data are system ready through QR and barcode tracking technology. Quickly create, adjust, and manage your warehouse inventories to align with your work-front planning during project execution.
MODS Connect Materials Manager offers the following benefits:
More accurate reporting
Less administration
Fewer business disruptions
Greater productivity
Increased project quality
Increased project ROI
Maintain your project schedule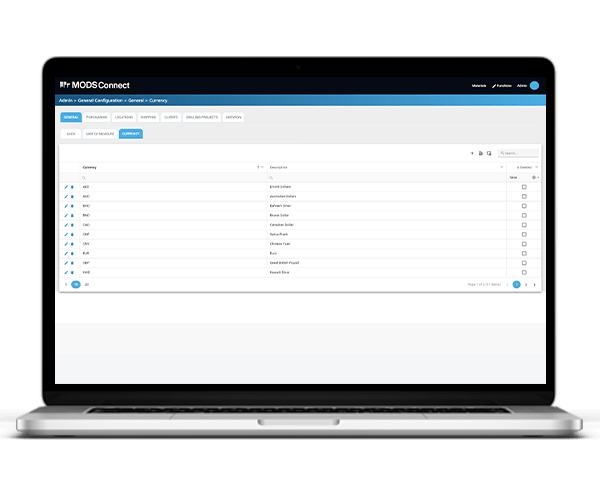 Our digital work pack solution provides an accountable and visible real-time view of tasks from planning to sign-off. This software module links all essential details pertaining to Engineering, Manning, Materials, Inventory, Fabrication, Installation, HSE (Health and Safety Executive), Scheduling, and estimated time for every issued work pack.
MODS Connect Work Pack offers the following benefits:
Large reduction of administrative burden
Structure work on three levels: Work Pack, Job Card and Activities
Interactive Processes
Flexible system for allocation of work
Web-based review process and revision control
Full integration & population with all MODS Connect modules
Automatic revision archive
Permit tracker & work pack readiness tracker
Paperless work pack solution
Handheld technology for ease of use onsite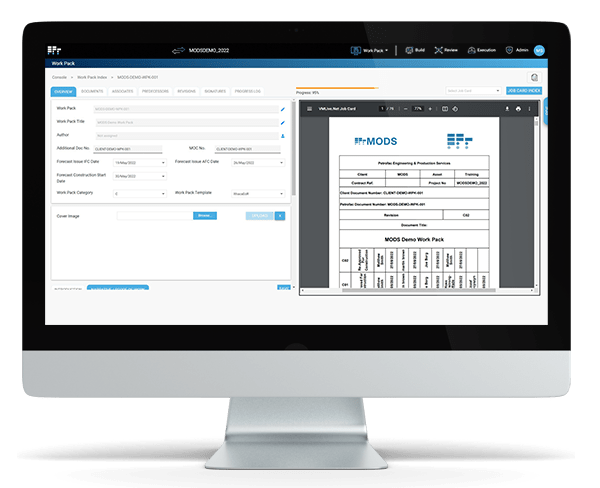 Activity Manager is a cloud-based system that enables remote management of all activities and workflows from one comprehensive platform. Delivering a comprehensive digital product with 4D tracking, color-coded 3D and 2D representations, Activity Manager provides status visualization throughout all project and operational phases. This multi-tasking solution is cloud-based and provides immediate clarity and interactive ability all from a single source.
MODS Connect Activity Manager offers the following benefits:
Full traceability and accountability
Detailed 3D and 2D visualization with color-coding abilities, reducing errors through clear visual communication
Cloud-based system with access from hand-held devices
Real-time status removes the time-lag of paper-based systems, reducing scheduling delay
Traceability and identification of bottlenecks and other issues, for an informed and proactive rather than reactive approach
Improved construction, production and labor estimates
Interactive scheduling completes projects faster, smarter and more accurately
Improved productivity and, hence, profitability
Up to 25percent increase in offshore productivity with MODS Connect Activity Manager workfront planning, facilitating collaboration though systems integration.
Easily integrates with other systems, from data sharing to digital twin
Prevents entering conflicting information through verified status updates
Ability to pre-populate with data from any/all modules in the MODS Connect suite
100percent paper-free status reporting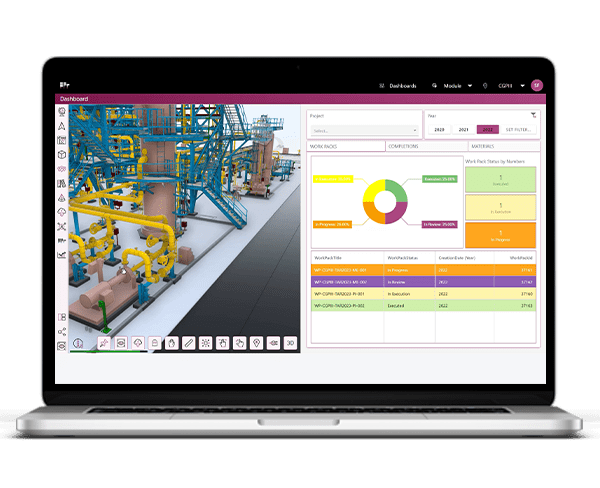 Our flange management software uses QR codes handheld devices to control the processes associated with joint management and pipe systems testing. Designed to enable users to interact directly with the database and track each joint online, our Joint Integrity solution removes paper from the process and ensures both quality and regulatory compliance.
MODS Connect Joint Integrity offers the following benefits:
Leak-free start-ups
Accurate, transparent reporting
Enforced regulatory compliance
Increased productivity levels
Dependable quality of work
Improved project ROI
Keeps schedules on time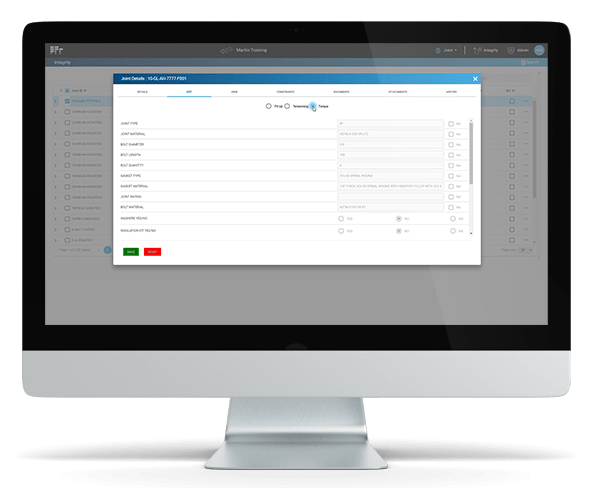 MODS Connect Completions creates a visible and dependable information management system. The continuous interface between construction, commissioning and into operational acceptance mitigates surprises and ensures the smooth and comprehensive transfer of quality assured records. Auto-population, structured administration and reporting from the database ensure a logical, safe, and smooth handover.
MODS Connect Completions offers the following benefits:
Full traceability and accountability.
Improved productivity and up to 70percent efficiencies reported by existing clients.

Cloud-based system using hand-held devices.

Real-time / live reporting which removes the lag of paper-based sign-off.

Large reduction in administrative burdens.

Structured accountability for user rights.
Automated system population, removing inefficient system interfaces.

No delays in ITR signoffs and handover.

Offers 100percent paper-free execution if desired.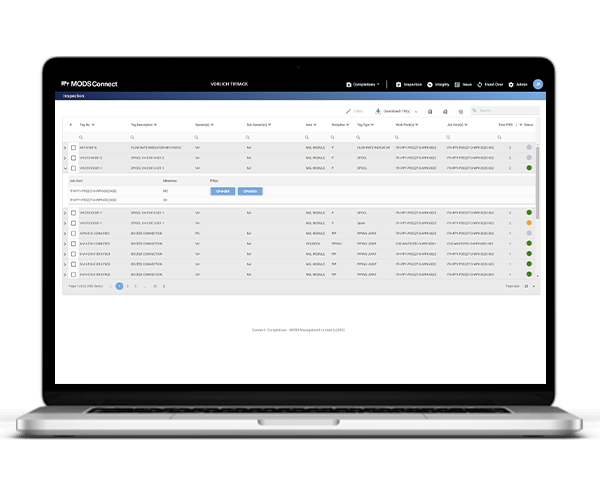 MODS's viewing tool Reality integrates all modules as a one-stop visual reporting tool using digital twin technology. The Reality viewer allows all users to remotely view and communicate the real-time project status from the cloud-based model linked to all asset and project metadata.
Data contained in Reality includes:
Material delivery status
Drawing issuance status
Worker monitoring
Project status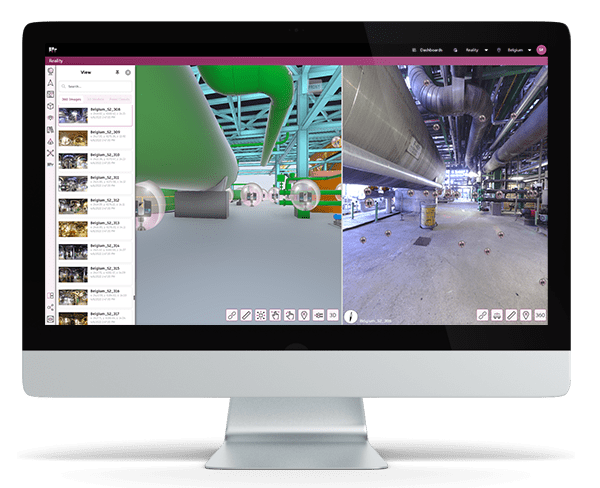 Case Study
MODS Connect has been vetted by forward-thinking Engineering, Procurement, and Construction (EPC) companies, including GIS and Petrofac, dedicated to advancing digital transformation of their upgrades and maintenance projects.
Petrofac, a leading provider of services to the global energy industry, turned to MODS Connect to capture all brownfield project data in one system. Compatible with Petrofac's existing systems and processes and achieving connected delivery, MODS Connect decreased administrative burdens, improving efficiency by cutting time-spent in half.