Materials Management Software
Materials management and tracking software for EPC businesses and operators of industrial assets. Effective inventory control for use during industrial construction or maintenance projects of any size.
Effective supply-chain management ensures that materials are always at the right place and at the right time. Our materials management software gives the ability to premeditate bottlenecks, avoiding delays so you can keep projects on time and on budget.
MODS Connect Materials Manager is a comprehensive inventory solution that enables real-time tracking of your materials throughout their transformation value chain, from fabrication through to installation. The cloud-based database is accessible from anywhere and at anytime, ensuring access to real-time status for planning purposes. Full material archives provide transparency and accountability.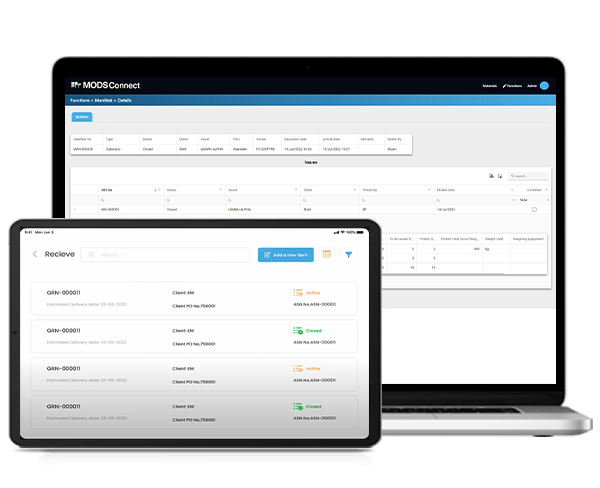 Materials management challenges
Current processes that rely on paper-based printouts and spreadsheets involve high manual intervention levels that inevitably lead to errors, causing losses, mistakes and delays. Our Materials Manager software manages and monitors materials from start to finish so that you can push project plans forward and stay on track.
Common materials management challenges include:
Delayed materials

Lost or stolen materials

Materials at incorrect locations

Schedule and project changes

Managing paper-based systems

Lack of real-time information on inventory

No accountable tracking on returns or repairs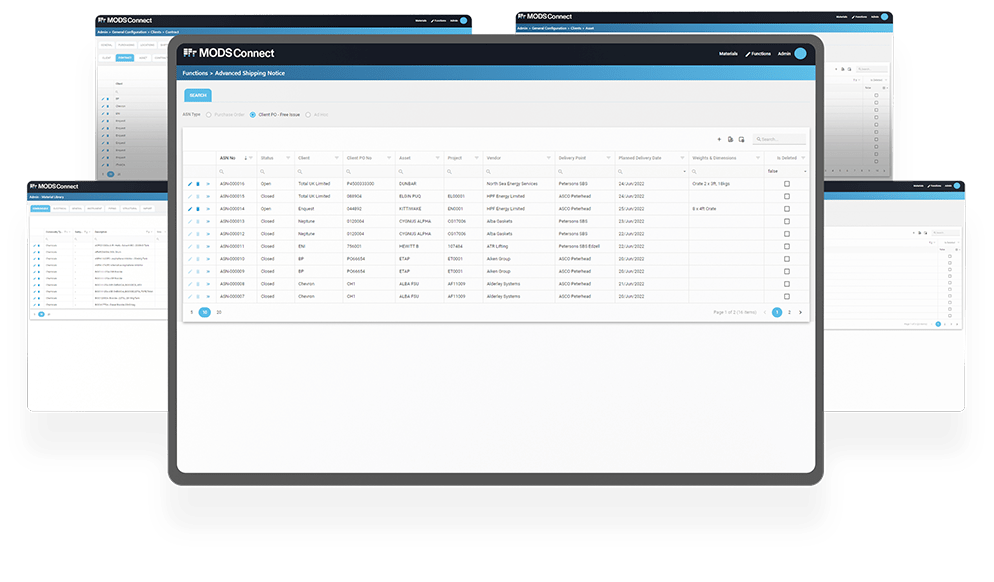 Inefficient materials management systems impact:

Cost

Integrity

Productivity

Traceability
Digitize your materials management
Digital transformation in the construction, maintenance and upgrades of industrial assets is becoming a non-negotiable for EPC businesses and operators to remain competitive. Materials management in construction processes is a notorious pinch point that compromises project outcomes.
With digital materials management, unanticipated delays, human errors and lack of accountability are a thing of the past. Reclaim transparency of your inventory throughout the value-chain from fabrication through to installation with real-time, cloud-based materials management that is accurate, comprehensive and readily accessible.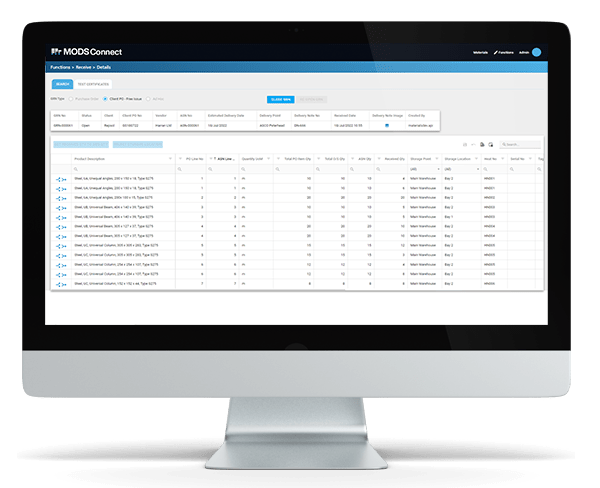 Connect inventory for global collaboration
Staying connected in a geographically dispersed business with a remote or home-based workforce requires information to be available and up to date, immediately, from any location.
With MODS Connect Materials Manager software, you can conduct synchronized inventory management online from any location, anytime, saving valuable project time and overall costs.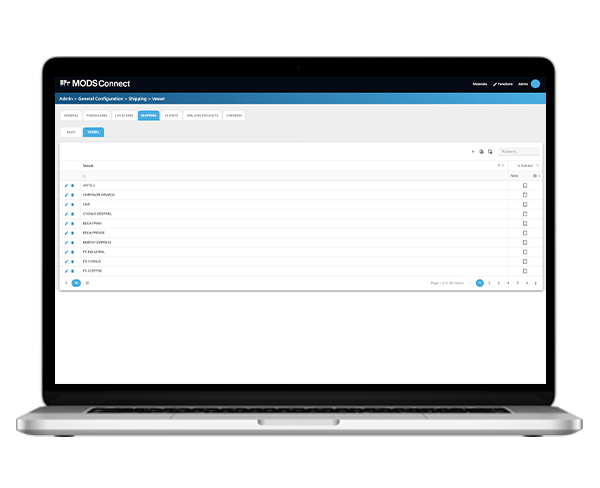 Real-time updates regardless of project location
MODS Connect Materials Manager was developed with capabilities to work on mobile devices as well as in remote physical locations, including offshore. Live data is saved in a centralized database, assuring that access to review your information is instant and accurate.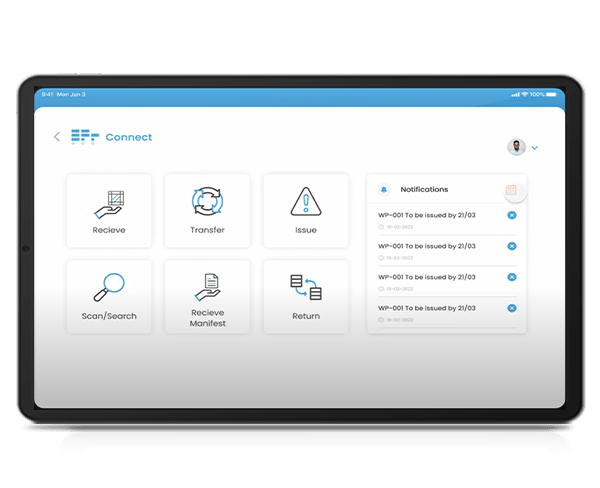 Technology drives focus on materials
MODS Connect Materials Management advances your DX so that you can be more competitive. With our software, you can quickly create, adjust and manage your warehouse inventories to align with your work-front planning while executing projects. MODS offers a multi-user, online environment with a flexible, user-friendly web and mobile interface, offering different administrative privileges across the organization.
Our focused materials management system brings everything together through modern processes and QR / Barcode tracking technology. MODS Connect Materials Manager is the complete inventory management solution for the construction, maintenance and upgrades of industrial assets. It is the perfect fit for EPC business and operators seeking to avoid bottlenecks through the digital transfer of materials management information.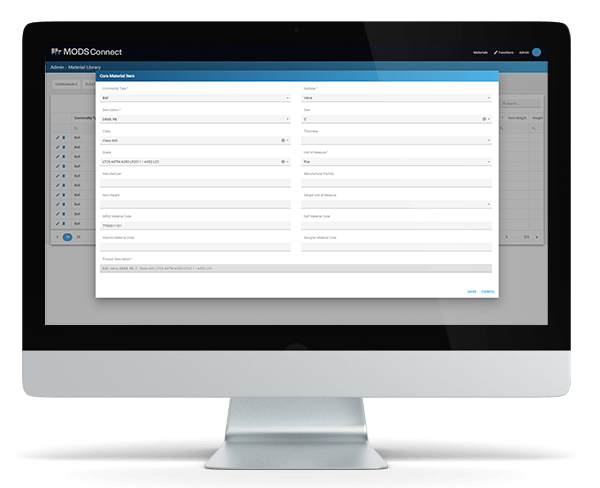 The materials-fabrication interlink
MODS Connect Materials Manager software solution integrates with your existing systems as well as with the complete MODS Connect software suite, designed to advance the digital transformation of industrial construction, upgrades and maintenance projects.
A notable benefit of this compatibility is the inventory management interlink with our digital Fabrication solution, to provide comprehensive materials control from the beginning. This potent combination of MODS Connect Materials Manager with MODS Connect Fabrication ensures that your materials are at the right place and at the right time.
Have confidence in the transparency and accountability of your inventory, avoiding bottlenecks and delays. MODS Connect digital materials solutions ensure that your sequential activities can always carry out as planned.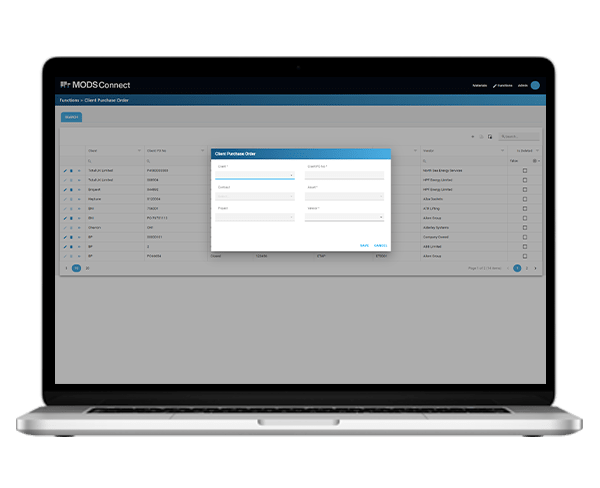 3D visualization with Reality
MODS Connect Reality module offers real-time 3D visualization and progress status of onsite construction execution, maintenance and upgrades of industrial assets.
This gives EPC groups, contractors and operators a comprehensive look at the asset. On-the-ground status and demands are clear, enhancing management and oversight of your industrial asset.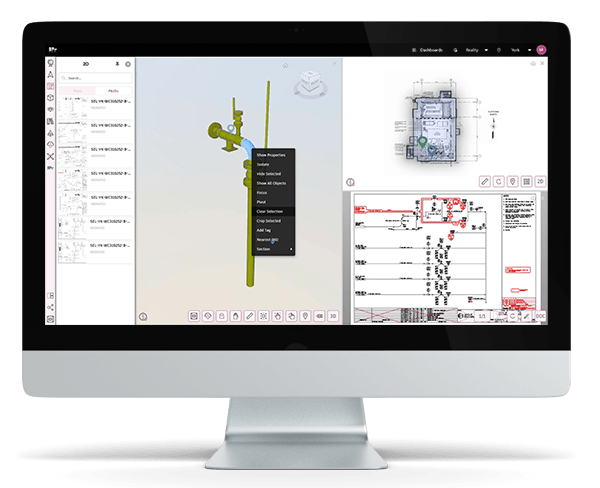 Benefits of using MODS
Material Management

solution
Clearer, more accurate reporting

Reduced administrative burden

Fewer business disruptions

Greater regulatory compliance

Enhanced productivity

Better project quality

Increased project ROI

Project Schedule on time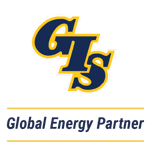 "We started using MODS software for controlling materials in 2012. Before using MODS, we used Excel in managing our inventory, a complicated warehouse inventory process that could often be very time consuming. We partnered with MODS to start our digital transformation and have used the system to manage our project's inventory ever since. MODS Connect Materials Manager has great functionality that helps us better plan, receive, distribute, and track in real-time. A great feature we like is the reporting, which gives us insight into how materials are being aligned with the work fronts we have planned within a specific period. The MODS team has also been invaluable at evolving their system regularly to adapt to the ever-changing needs of their customers, adding new and efficient elements to help solve bottlenecks and make the experience better."
Dwain Guidroz
Senior Project Manager
We would love to talk to you about our digital materials management solution
MODS offers a materials solution which is part of the MODS Connect suite, which drives automation in your warehouse inventory processes, helping you better align with construction phases within your projects. MODS Connect Materials Manager solution gives you the ability to link with third-party systems for inventory population, including receiving, purchasing and invoicing. You will have live access to critical information that, if not managed or updated correctly, could delay or increase the budget of scheduled works.
Contact the MODS team to arrange a presentation on how MODS Connect can help your organisation.

Digitalize your materials management processes for
Operational Excellence
As a cloud-based materials management system, MODS Connect provides an affordable and easily adoptable solution utilizing automation. The system is designed to enable users to interact directly with the online database to efficiently track each material to reduce costs and institutionalize Operational Excellence in organizations.



The system provides cost savings you cannot ignore, delivering transparency and accountability in pursuit of Operational Excellence through the following:
Materials tracking

Materials allocation

Global collaboration

Dependable traceability

Remote work enablement

Tracking technology

Efficiently handled returns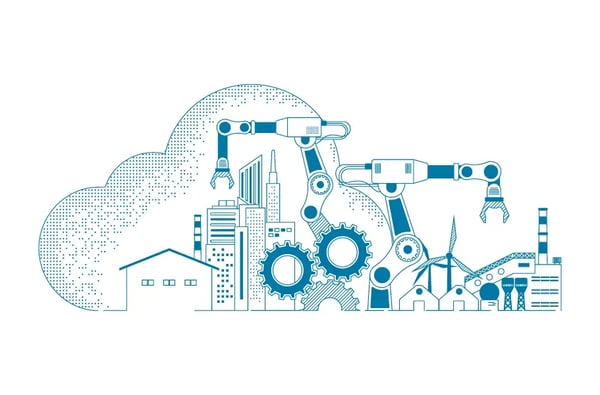 3rd party system integration (purchasing) and auto-population of materials from existing ERP systems

Delivery tracking and advance delivery notification

Access control

Asset tagging

Asset photo management

Automatic report generation

Availability Indicator

Barcode / QR - generation & scanning

Complete management for requisitions

Container and equipment management
Links bulk purchase orders with MODS Connect Work Packs

Multi-departmental / and multi-project capabilities

Perform materials management by work pack / job card

Photographic functionality for easy identification

Document management

Manifest creation

Mobile / handheld app

Real-time reporting

Receiving
Requisition management

Rentals cost management

Schedule and communicate the readiness of materials

Shipping management

Space management & visualization

Stock and spares' management

Transfer tools & materials

Warehouse management and restrictions

Weight reports

Data import/export
USE THE FULL CONNECT SUITE FOR HIGHER ROI
MODS Connect Materials Manager
MODS Connect is the overarching suite of software specially build for the challenges faced by EPC groups and operators on the construction, maintenance and upgrades of industrial assets. As part of the MODS Connect software group, Materials Manager completes this integrated offering, removing any doubt of data silos.
However, Materials Manager also functions as a stand-alone software that can integrate with your existing systems. For a significant return on investment, we recommend looking at the full MODS Connect offering for industrial upgrades and maintenance projects, regardless of size. Materials Manager has played a substantial part in shutdowns and turnarounds with our customers receiving items at the right time and the right place to ensure schedules remain on time and, in many cases, reduced.