Integrated management system Policy
MODS Management's long-term success depends on our ability to develop and continuously improve our service delivery while protecting our Information, as well as any information provided to us by our customers or suppliers.
IT IS OUR POLICY TO:
Embed Quality and Information Security principles into all our activities and our strategic direction.
Operate our organisation in a manner which ensures the protection of the CIA of information:


Confidentiality - Protection from unauthorised disclosure.
Integrity - Protection from unauthorised modification.
Availability - Easily accessible as and when required.


WE ARE COMMITTED TO:
Ensuring continuity of operations by establishing appropriate information security controls to protect against losses of CIA of Information.
Ensuring limited impact on operations as a result of information security incidents by the establishment and implementation of appropriate response and investigation processes.
Establishing and implementing mutual confidentiality and non-disclosure agreements, where appropriate.
Considering Information Security impacts and implications in all our operations, processes, plans and partnerships.
Satisfying and monitoring applicable legal, contractual, and other requirements.
Continually assessing and reviewing our Integrated Management System (IMS) to ensure ongoing suitability and effectiveness, and for continual improvement opportunities.
Ensuring the customer needs and expectations are determined and fulfilled with the aim of achieving customer satisfaction.
Top management ensuring that the management reviews are set at regular intervals.


WE ASSIGN RESPONSIBILITIES TO:
The IMS Manager:



To ensure the organisation complies with applicable legal, contractual, and other requirements.
To ensure that information security risks are identified, recorded, and appropriately controlled.
To ensure the establishment, implementation and maintenance of appropriate information security arrangements and processes.
To liaise with appropriately interested parties on Quality and Information Security matters.
To ensure Quality and Information Security arrangements are appropriately documented and records are maintained.

All persons working under our control:



To safeguard information assets to the best of their ability.
Adhere and cooperate with all measures implemented for the purposes of Information Security.
Report all Information Security incidents including suspected incidents.
Identify and comply with all relevant legislation and industry standards.
MODS Management senior management ensures that our policies, commitments and aims are achieved through the establishment of Specific, Measurable, Achievable, Realistic and Timebound objectives.
MODS Management aims to achieve its legal obligations, policy commitments & objectives through review & continuous improvement of the Integrated Management System, communication, competent personnel, & appropriate supervision.
To assist the company in achieving its Quality and Information Security requirements it is committed to operating in a manner that aligns to the international standards ISO 9001:2015 and ISO 27001:2022.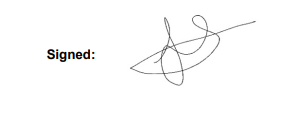 Name: Jon Bell
Title: Chief Executive Officer
Date: 17/08/2023