Industrial Construction Management Software
for Greenfield and Complex Builds
Labor-intensive paper records and work packaging lead to confusion, delays and added cost. With MODS Origin, industrial construction management software for greenfield sites and other complex mega builds, such wastage is a thing of the past. This customizable software digitizes your workflow, streamlining construction, permitting, preservation, testing and handover activities.
MODS Origin enables the digital evolution of your construction execution, digitizing your workflow for every phase from planning through handover, increasing productivity and reducing costs. This innovative software eliminates paper, digitizing and automating your processes at every project phase to plan, control, execute, test and handover work more efficiently.
MODS Origin digitally unifies construction, execution, completions, and handover with software and mobile technology to de-bottleneck, reduce worker-hours as well as non-value-added time, making significant budget savings for our customers.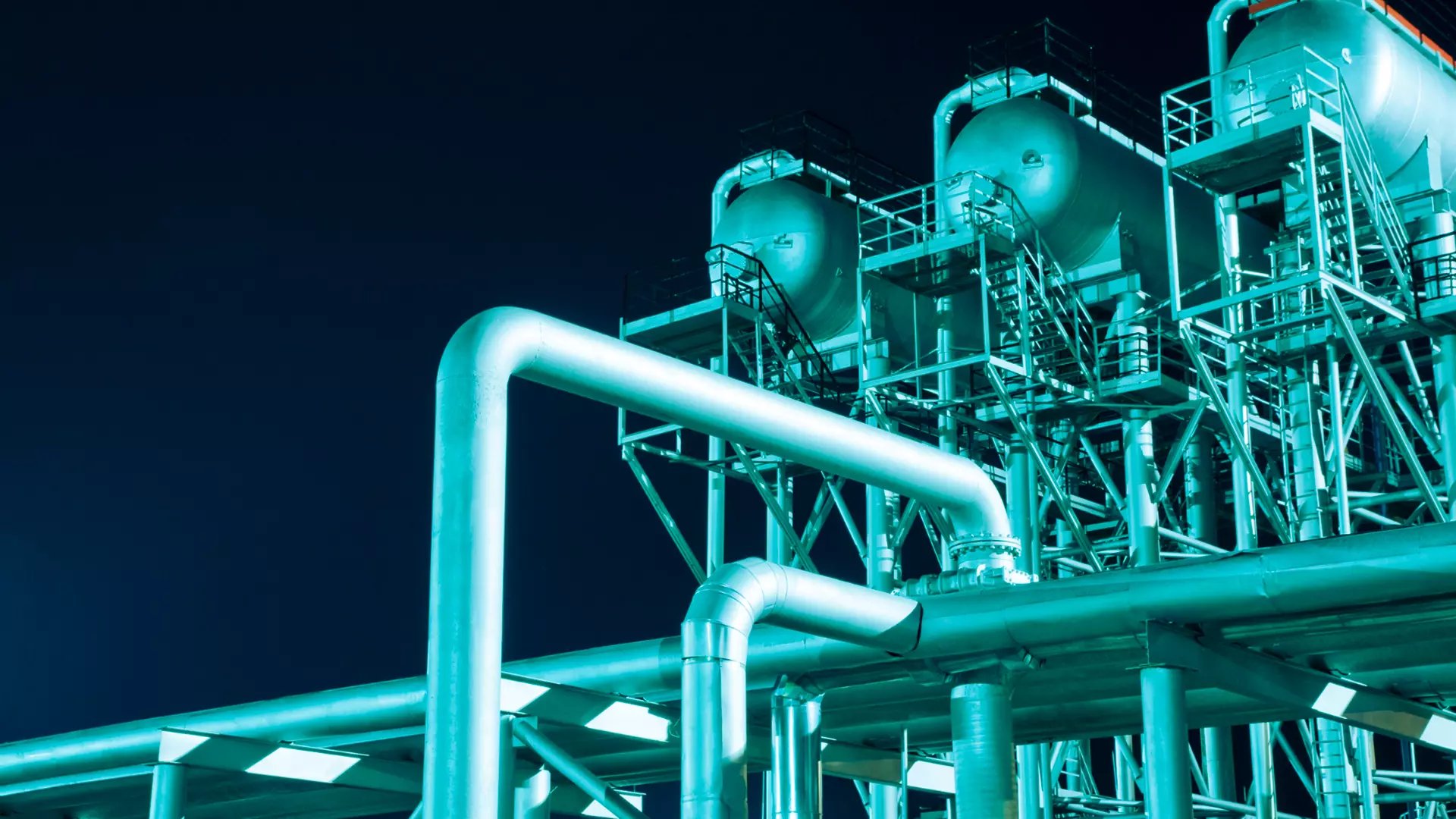 Common problems in upgrades, maintenance and brownfield projects
Lost paper-based information and other information gaps
Communications time-lag of project status from site to office
Lack of communication between different project phases
Falling behind schedule
Inaccurate forecasting
Running over budget
Difficult to control onsite person-hours
Out-of-sequence construction, when predecessor work is not properly prioritized, successor work cannot proceed smoothly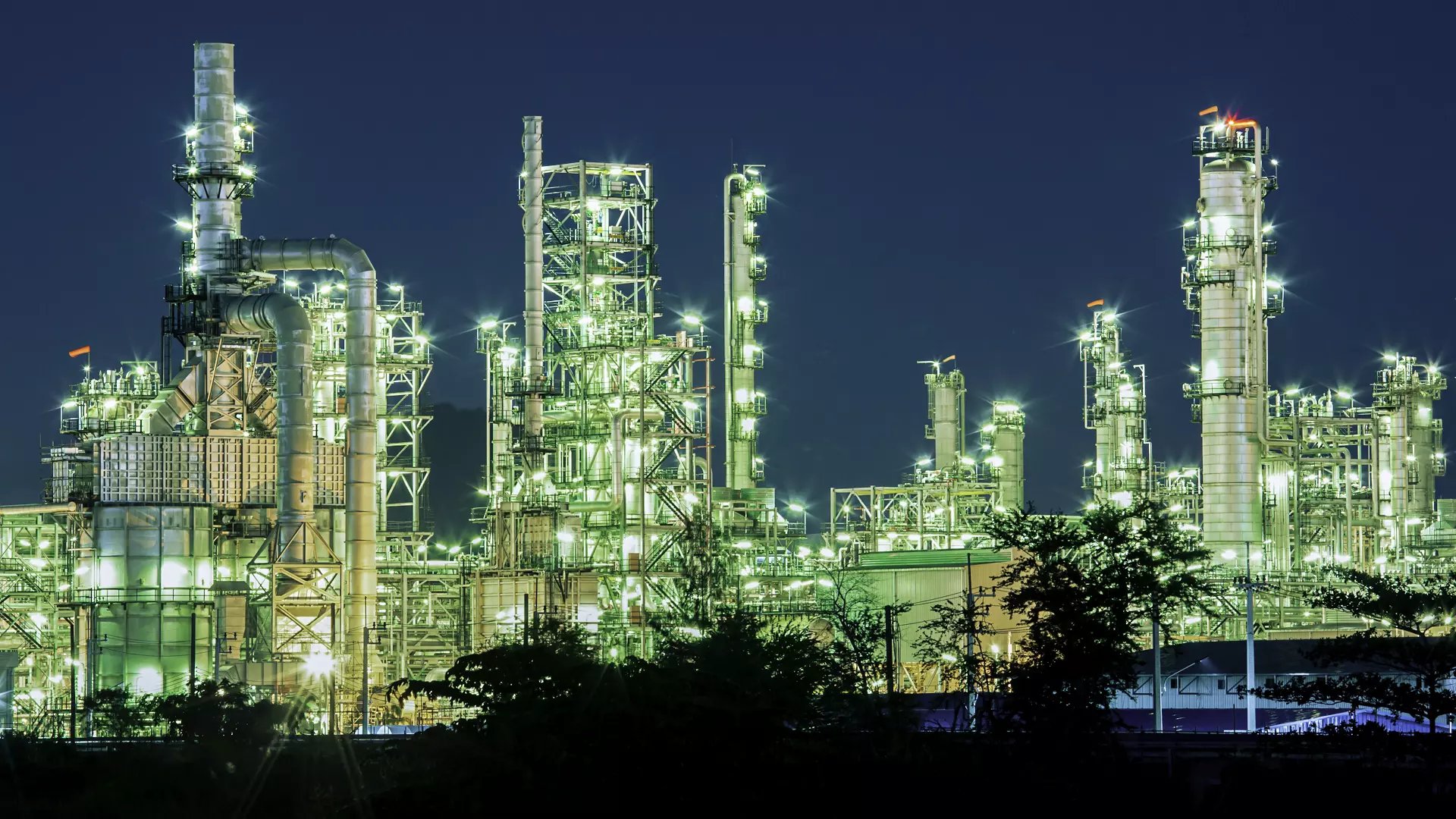 Digitize your construction execution from planning through handover with MODS Origin
Inaccurate forecasting, falling behind schedule, and a disconnect between expectation versus site reality plague complex industrial construction projects. Delays, miscommunication and lost paper impact your bottom line and strain your client relationships.
Quality assure your construction execution and protect your reputation with MODS Origin. Cloud-based, Origin provides a single-source of information accessible from mobile devices provides access to real-time project updates. All project phases are integrated, with digital information readily shared, reducing room for error and keeping people safe.
MODS Origin consists of six fully-integrated modules, available individually or in any combination, and customizable to suit your specifications. They are: Construct, Permit, Preservation, Test, Handover and View.
Construct
A digital cloud-based Advanced Work Packing (AWP) system, creating fit-for-purpose work packs for field execution, providing a link between Engineering, Procurement, and Construction. Users can create, view, and manage construction work packages sequentially. An interactive 3D model contains all project data and gives real-time project information, accessible from anywhere. Throughout the execution phase, handheld devices enable users to view the scope, latest drawings, update the progress and tag status, record expended person-hours and create punch items for completions and commissioning.
MODS Origin Construct features the following:
3D model-driven AWP process
Fully customizable and scalable to suit any project Total Installed Cost (

TIC

)

Predecessor and successor

work packs can be assigned, with progress of each identified
Interactive dashboards
3D schedule can be created and updated
Person-hours tracking
Latest drawings automatically attached to packages
3D model snapshots easily attached, ensuring easy communication with subcontractors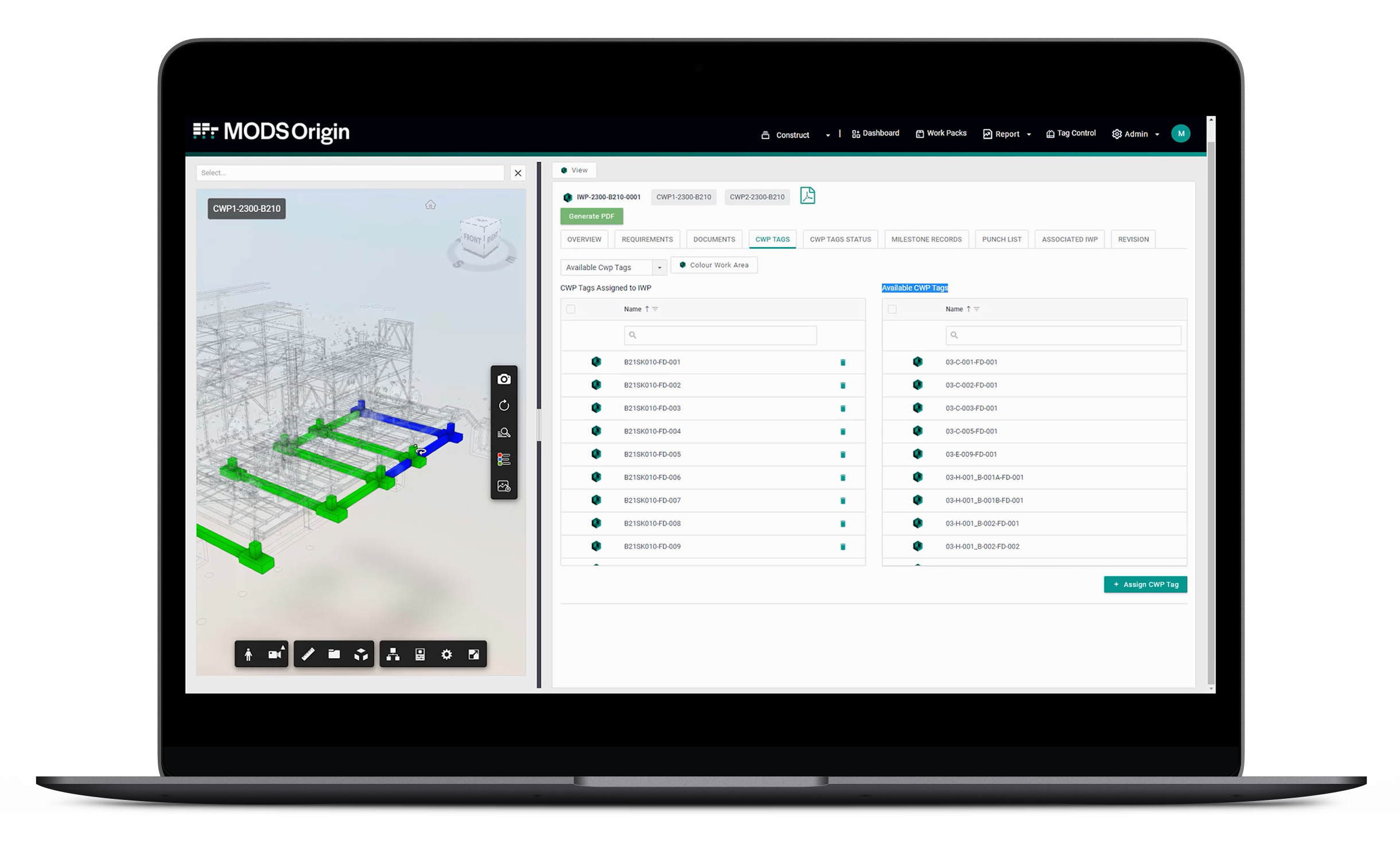 Permit
A digital cloud-based permit-creation system eliminating the need for paper.
Permits and certificates are created and controlled throughout the entire process. Interactive dashboards show various stages of the permit lifecycle, highlighting any bottlenecks in advance.
Utilizing the 3D model, permit locations can be easily marked-up and viewed, and permitting SIMOPs are highlighted to streamline day-to-day tasks.
MODS Origin Permit features the following:
Digital permit creation
Fully customizable and scalable to suit any project TIC
Mechanical and electrical isolation, excavation, radiography, confined space, grating removal can all be controlled

Interactive dashboards

including user actions, permit status, archives and area permit counts
3D model permit locations
Documentation and evidence images
Before, during and after work control
Digital authority sign-offs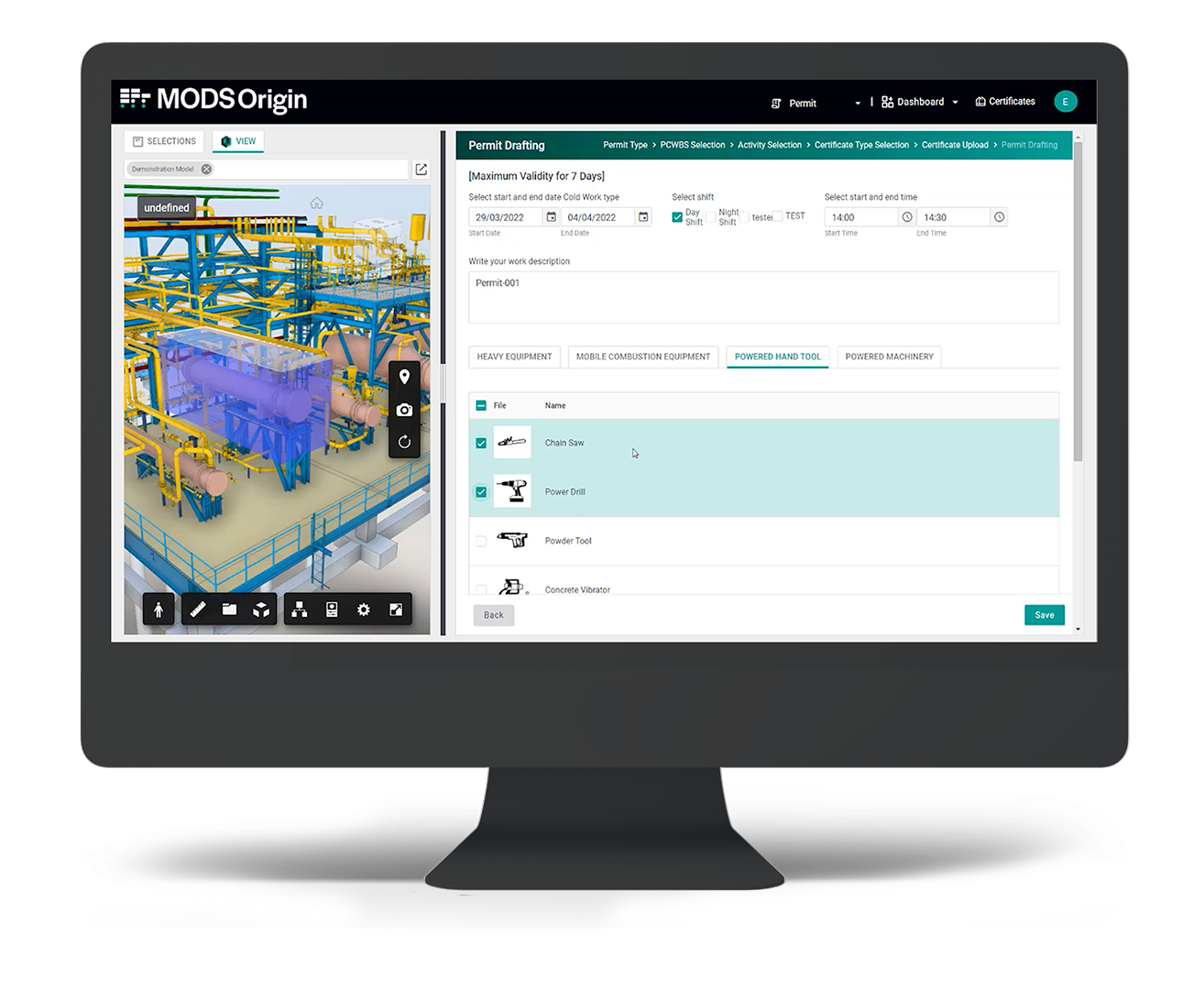 Preservation
A digital cloud-based system that fully manages the preservation process without paper.
The system shows focused preservation areas. Customizable, preservation processes can be queried by area, tags, responsible company, work required, discipline, and stage.
The user can link Preservation forms to activities and tags, ensuring the correct work is carried out on time for a given asset, which eliminates wastage. A fully customizable reporting system gives up-to-date, detailed reports.
MODS Origin Preservation features the following:
Fully customizable and scalable to suit any project TIC
Can be integrated into training programs
Easily accessible, detailed reporting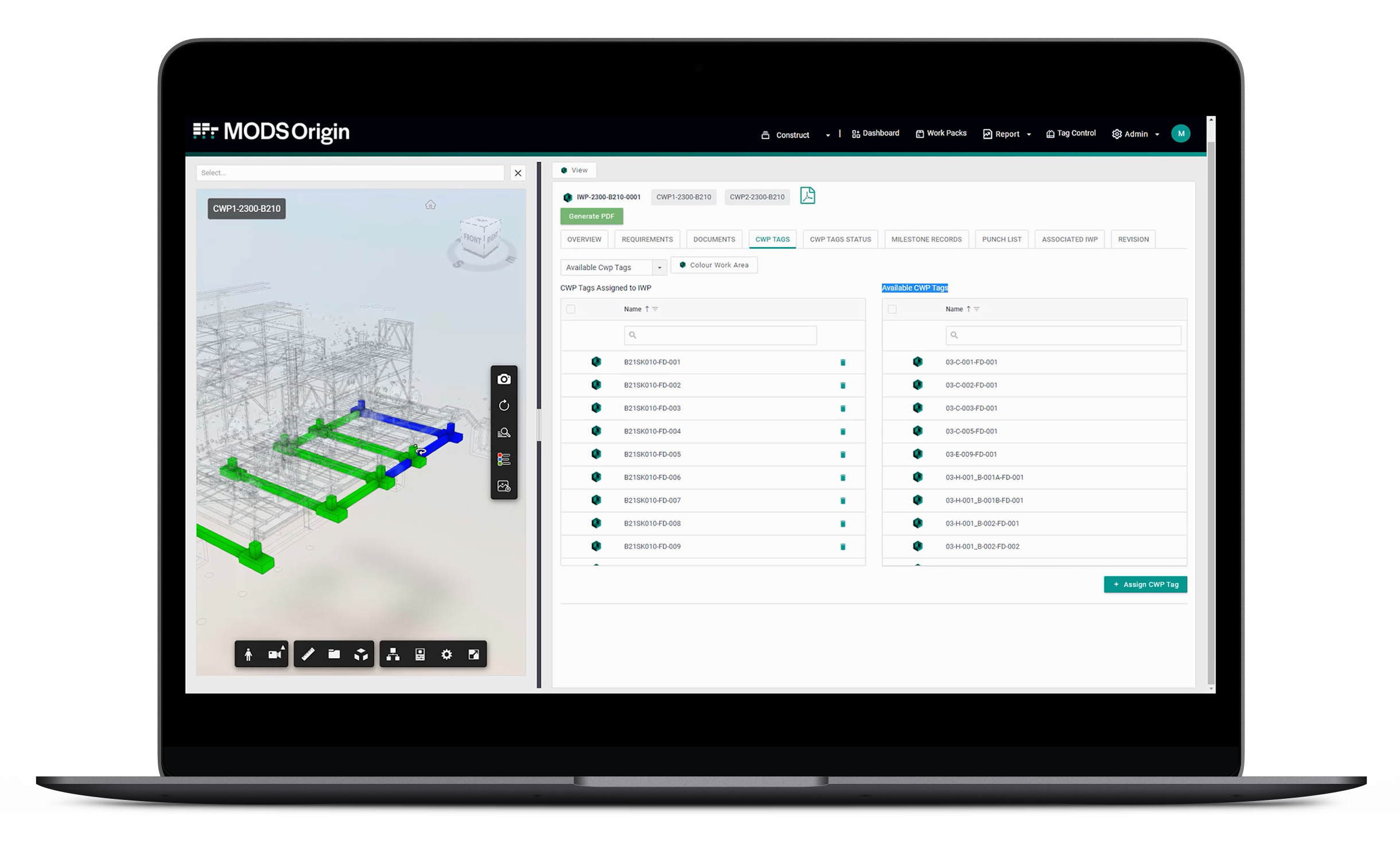 Test
A digital cloud-based system that creates, controls, executes and archives test packages without paper. Test is broken down into three sub-modules: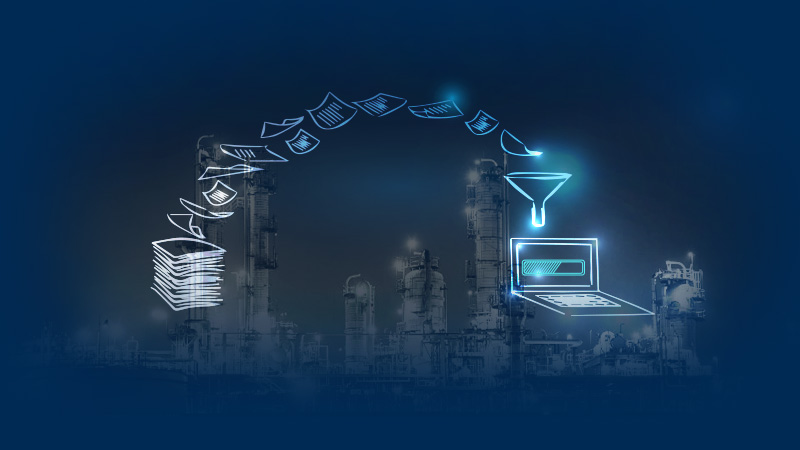 Handover
A digital cloud-based completions system offering remote web-based and mobile working.
Users create fully customizable digital Inspection and Test Records (ITRs) and handover certificates which meet all project requirements. Contractors quality assure technical integrity of clients' assets.
Customizable milestone settings
Digital Inspection and Test Records and Handover certificates which can be fully customized
Punch Management system
Remote working – online and offline
Document storage and mark-up
Customizable dashboards based on user settings
Software validation checks to ensure technical integrity
Customizable Handover Documents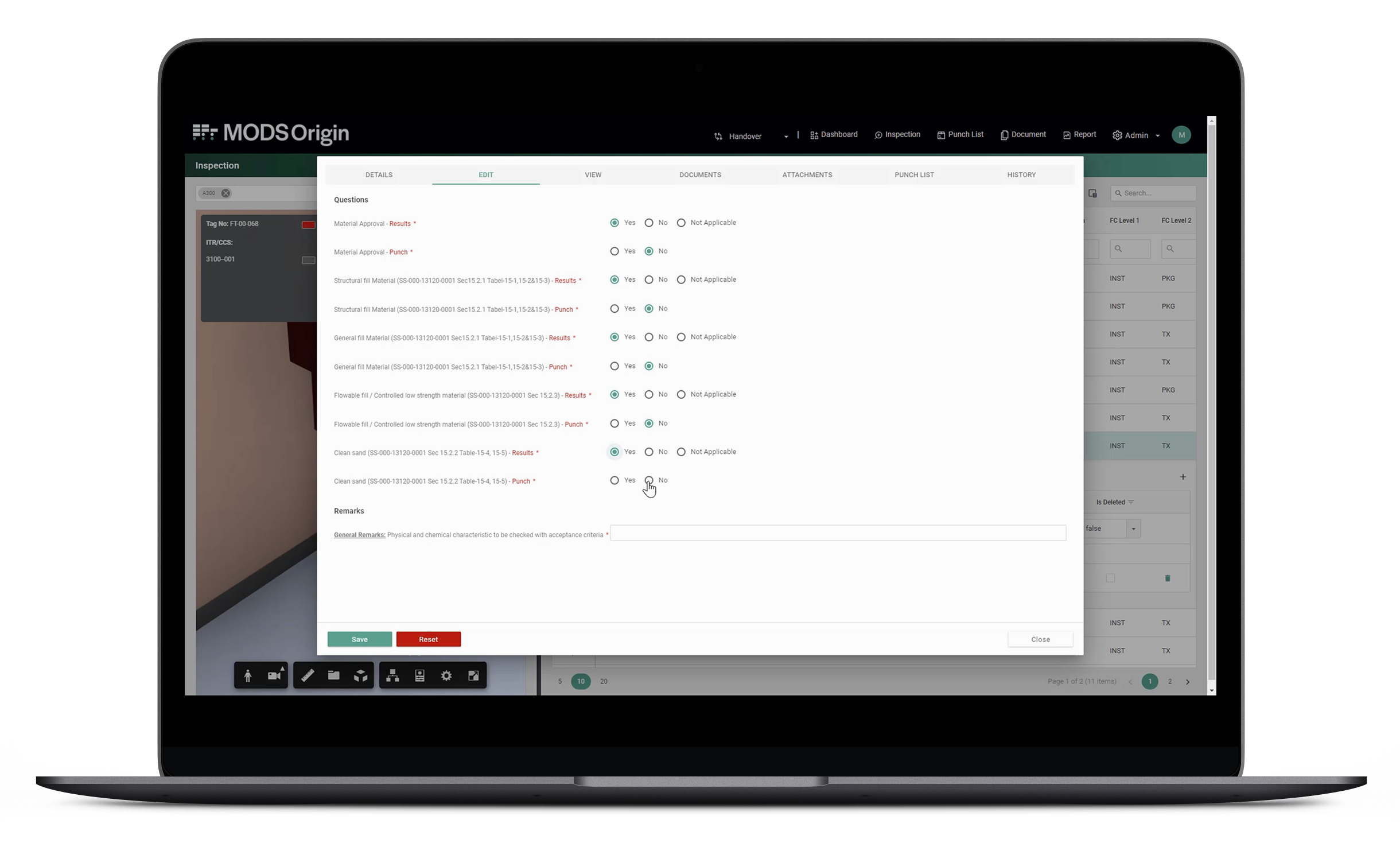 View
The Origin viewing tool Reality integrates all modules as a one-stop visual reporting tool. Reality viewer allows all users to remotely view the project status from the cloud-based model viewer.
MODS Origin View features the following:
Material delivery status
Drawing issuance status
Manpower monitoring
Project construction status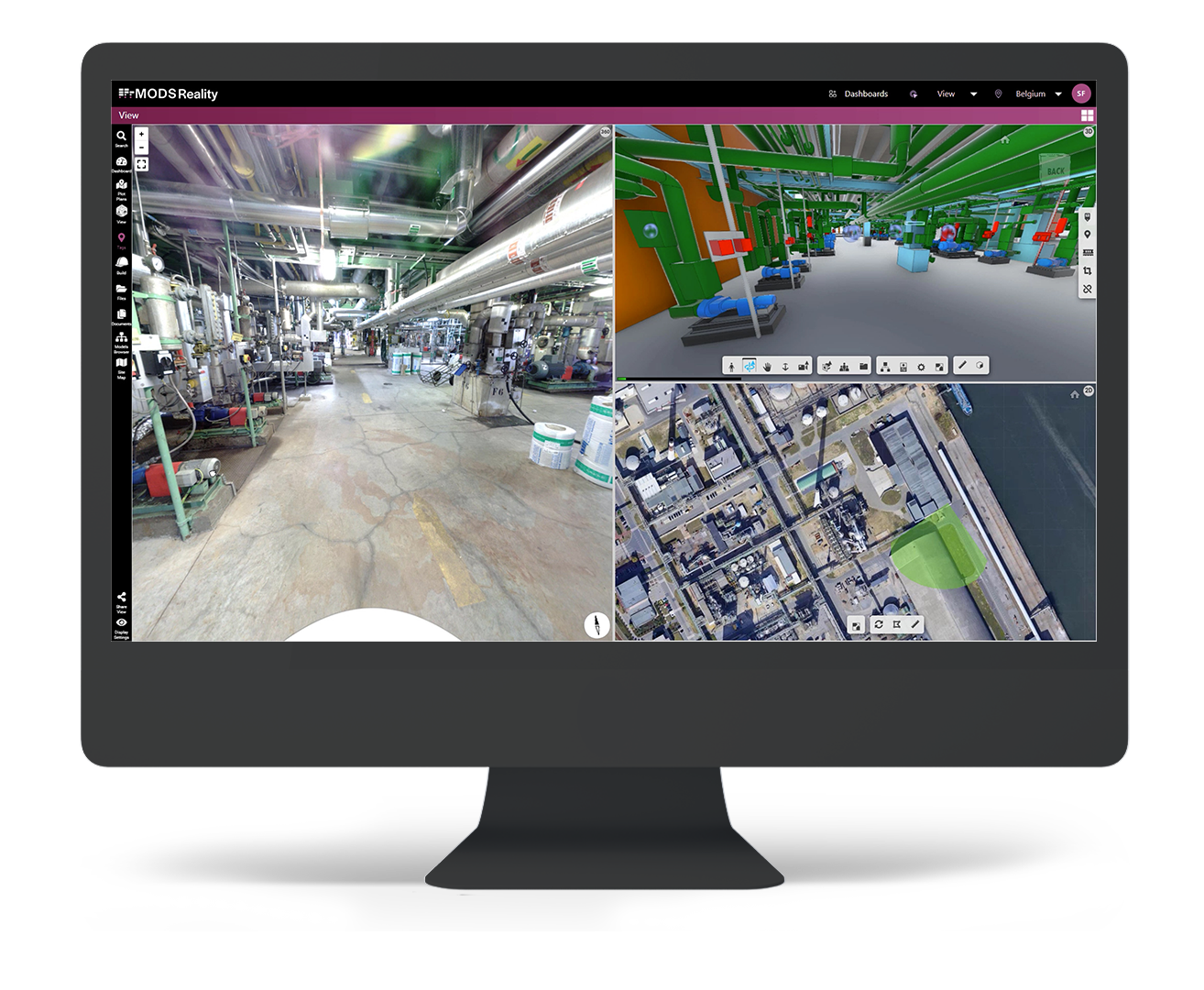 Case Studies
MODS Origin is tried and tested by some of the world's biggest and most influential Engineering, Procurement, and Construction (EPC) companies, including JGC.
JGC, one of the world's most prolific EPC groups, has enabled paperless construction execution of ten significant projects with MODS Origin, including:
Full development of a Central Gas Plant facility in Bahrain in 2017

From the ground up development of a crude oil gathering and processing facility with a capacity of 40,000bbl per day for Sonatrach in Algeria in 2018

The construction of an LNG export terminal in Canada in 2020, one of the biggest LNG projects in the world

A USD 3.5 billion refinery upgrade project for South Refineries Company in Basra, Iraq
Partnering with MODS, JGC has helped shape MODS Origin, to-date focusing on Construct and Test.